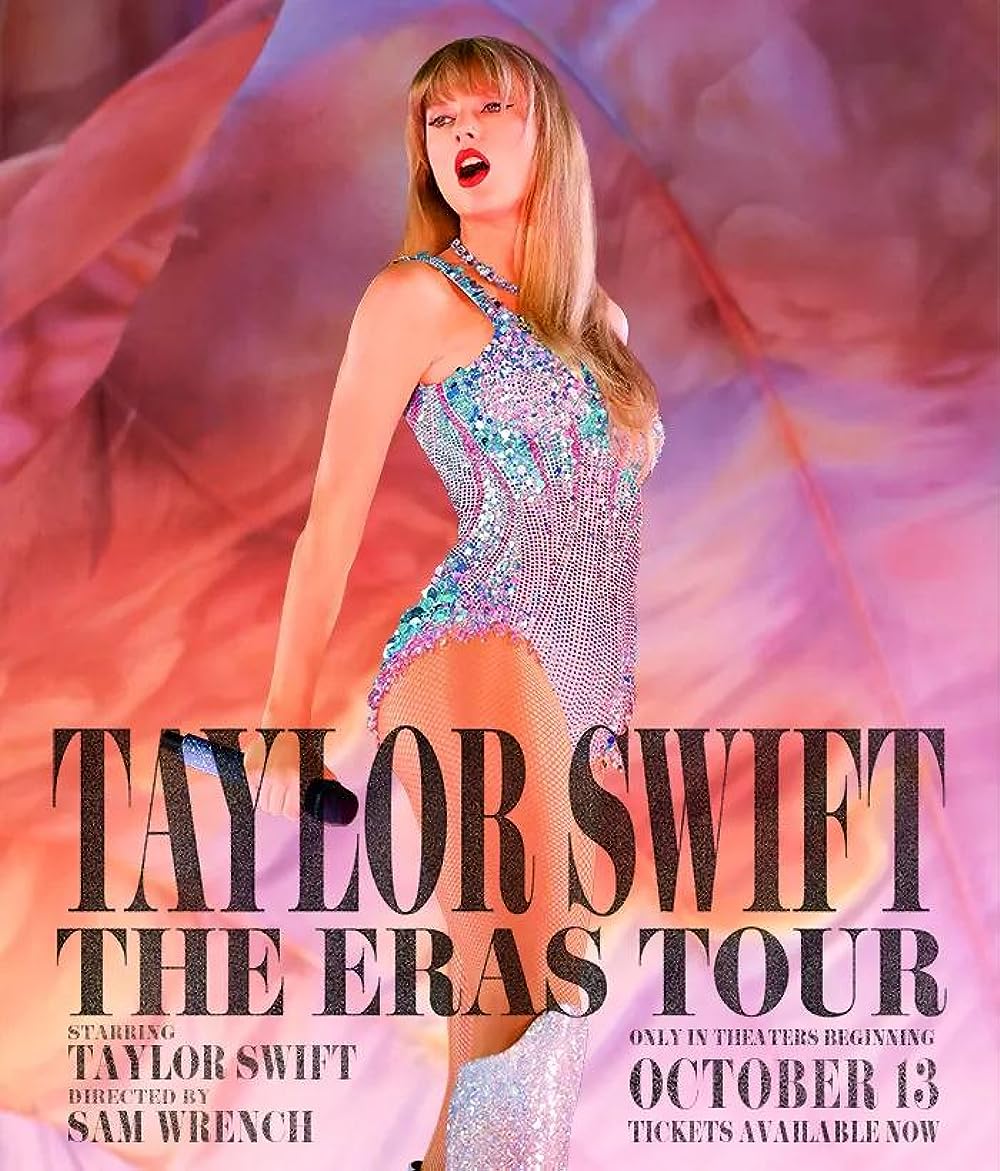 Synopsis: Experience the breathtaking Eras Tour, performed by the one and only Taylor Swift.
Director: Sam Wrench
Stars: Taylor Swift
---
I am not a 'Swiftie,' nor a detractor, not at all, but it would be insulting to real fans to attempt to put myself on the same level as them. Take my friend Ron, for instance. He was extremely passionate about his adoration of Ms. Swift. He even won a radio contest to see her in concert. One of those contests where the station mashes up several songs by Swift, and he had to guess them all. This was an easy task for him, and he was off to Chicago to see her in concert several years ago. He was a huge fan, a true Swiftie.
Fan or not, you can't help but be impressed with her career, whether it's her ability to transition seamlessly from country music to pop, how she has inspired generations of fans and how she has become one of the top stars in entertainment. When her Eras Tour went on sale, it crashed Ticketmaster. Let that sink in. The mere selling of her concert tickets shut down the platform.
Getting a ticket to her show is like winning the lottery. She recently announced she would perform six shows in Toronto; they sold out in minutes, just like in every market. It's pretty impressive.
If you didn't 'win the lottery' but would still like to see the show, this movie experience is for you. This isn't uncommon. Over the last few years, we have seen several artists do this. BTS is top of mind, but Coldplay and Metallica have also done it. What makes this experience different is that other concerts had viewings ranging from one night to four. Taylor Swift: The Eras Tour will be in theatres for several weeks.
The name of the tour is a dedication to the albums that have spanned her career, and every section of the show has songs from each album: Lover, Fearless, evermore, reputation, Speak Now, Red, folklore, 1989 and Midnights. She takes her audience through an odyssey of her career.
Growing up in the Prince-Michael Jackson era, I was always asked who I liked more. The answer was simple. Prince. While I thought both were great, I respected the fact that Prince wrote all of his own music. Similarly, Swift has written or co-written every song in her discography. And while the speculation of which song is about who, what is more impressive is how she consistently makes such great music.
Some artists are lucky to have one great album, but that is not the case here. As the show continues, we are constantly bombarded with great songs. And whether she's just singing, playing the guitar or the piano, we are reminded that Swift is not just a singer but also a very talented musician.
The show is just under three hours, and the time shouldn't be an issue. If you were seeing that concert in person, would you want a short show for those prices?
There are two separate but important aspects to consider when reviewing her show. The first is the show itself, and that part was incredible. The sets, costume design and choreography are all exceptionally well done. Some very effective stage technology is used; visually, it's very impressive.
This is an incredible stadium concert set at Sofi Stadium in Los Angeles. Swift also needs to be commended for showcasing a team environment. Her very talented dancers sometimes take centre stage, and there is no diva ego on Swift's part. Some of the dancers are characters in the songs that are being sung — kudos to Swift for not being afraid to showcase the talent of these fantastic dancers. The dancers are not only ethnically diverse but also range in body sizes. She has brought in people based on talent and ability, not having to check off a restaurant waitress's appearance test. They aren't 'background' dancers as much as being an integral part of the production.
Swift approaches the stage with a level of confidence that she amassed over a close to 20-year career. And for someone who has the ability to crash major online ticketing services, she appears to be somewhat humble at the experience.
The second aspect is the in-theatre experience. As someone passionate about film, seeing a movie with an audience is always preferred. What made this film special was seeing other people in the theatre singing and dancing along with the show. At points, "I love you, Taylor" could be heard in the theatre.
You don't have to be a huge fan to see the impact she has on her audience. And in a world where the phrase 'dance like no one is watching' is common, it was wonderful to see so many people sincerely enjoying themselves.
Taylor Swift: The Eras Tour is a very impressive concert film. There are no interviews; it is just the concert. There are some fun clips and bloopers as the credits role, but don't expect any sit-down interviews here. This is an amazing show with Swift, her band, her dancers and 70,000 friends.
What you get is a front-row seat to one of the most impressive concerts of the year. The show exceeds expectations and leaves no doubt why Taylor Swift is currently at the top.
Grade: A-
Where can you find Witty?