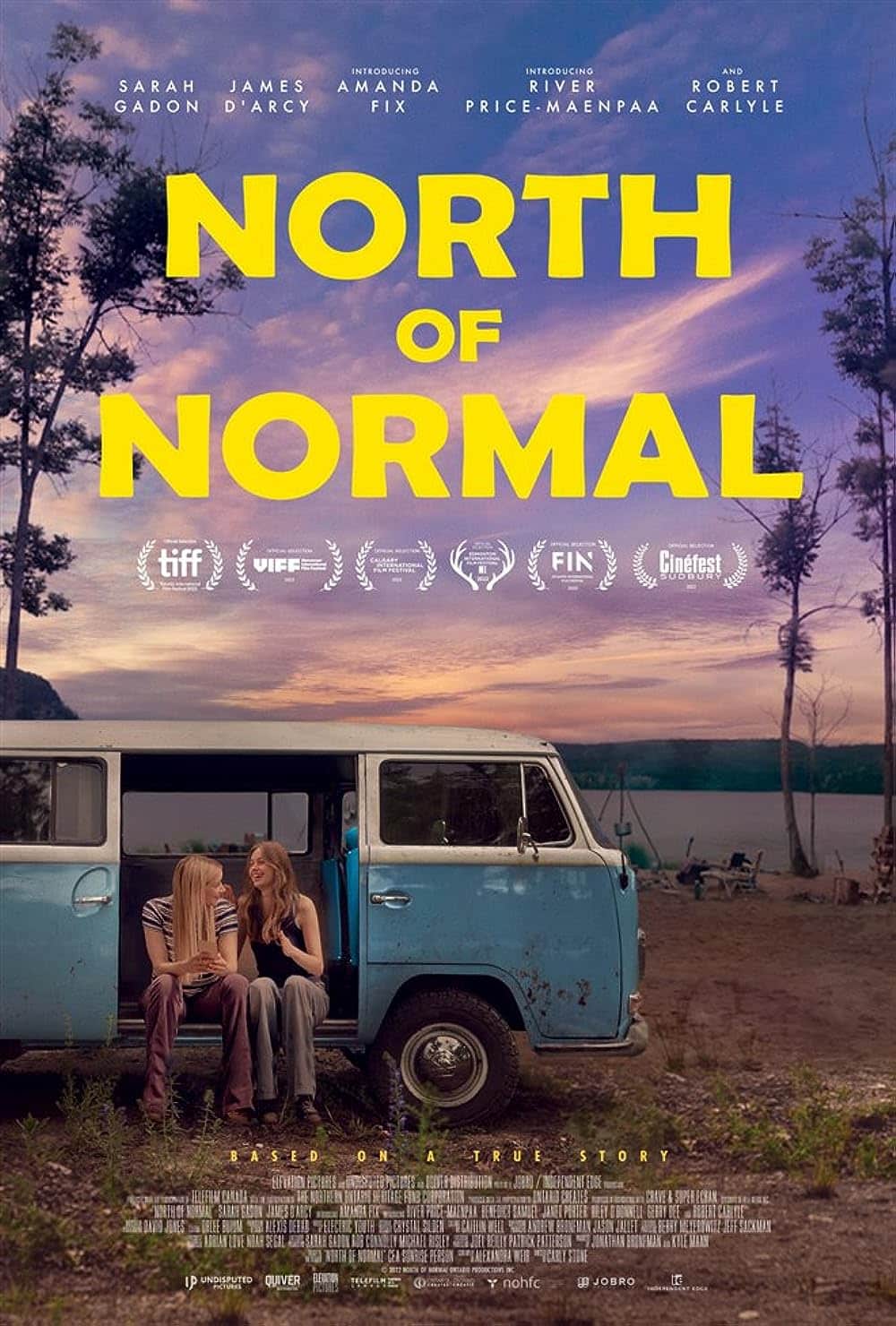 Synopsis: After being raised in the wilderness, a teenage girl moves to the city, hoping for a normal life with her anything-but-normal mother.
Director: Carly Stone
Stars: Sarah Gadon, Amanda Fix, Robert Carlyle, James D'Arcy
---
Canadian films like Brother, I Like Movies, To Catch a Killer, and BlackBerry strengthened Canada's cinematic landscape in 2023 and reminded the world of the great talent in this country.
North of Normal is about to join the list. Directed by Carly Stone, it tells the real-life story of a mother and her daughter and their survival. Not survival from a wilderness attack or frostbite, but essentially from life.
We meet Michelle (Sarah Gadon) and her eight-year-old daughter Cea Sunrise. As a young child, the role of Cea is played by River Price-Maenpaa. Michelle and her daughter live in tents with her grandfather, Papa Dick (Robert Carlyle). Michelle is very much the product of her environment, and to say she is rough around the edges would be putting it nicely.
Michelle bounces from boyfriend to boyfriend, and most of them are trouble. With her young child in tow, she leaves the nomadic lifestyle with her father and ends up squatting and randomly robbing people. She is a survivor who makes questionable choices, but again, this is all she knows.
Jump ahead, and Cea Sunrise is a teenager, now portrayed by Amanda Fix. Cea Sunrise sees her mother differently, and while she cares for her mother, she realises that her bed-hopping hasn't stopped, and now the child is more of a parent than the actual parent.
Based on the memoir from Cea Sunrise Person, this is an impressive film that reminds us that a huge budget isn't needed to deliver a compelling story.
Sarah Gadon's Michelle isn't a likeable character, her priorities are questionable at best, but her commitment to the role helps make the story compelling. This isn't an after-school special with a predictable story.
Amanda Fix is a find. Her portrayal of the teenage Cea Sunrise is beyond impressive; she shows screen maturity beyond her IMDB resume. Considering she's only been acting for a few years, one can't help but be excited about what her future holds.
I have not seen the show Kim's Convenience, but it seems like a great development ground for Canadian talent. One of the writers from that show, Renuka Jeyapalan, went on to direct the very entertaining and moving Stay the Night, and now another writer from the show Carly Stone, has made this strong film.
In addition to strong female leads, she has dived into multiple themes, parenthood, acceptance, the aforementioned survival, and what constitutes normal.
North of Normal is a moving story with solid performances.
Grade: B+
Where can you find Witty?