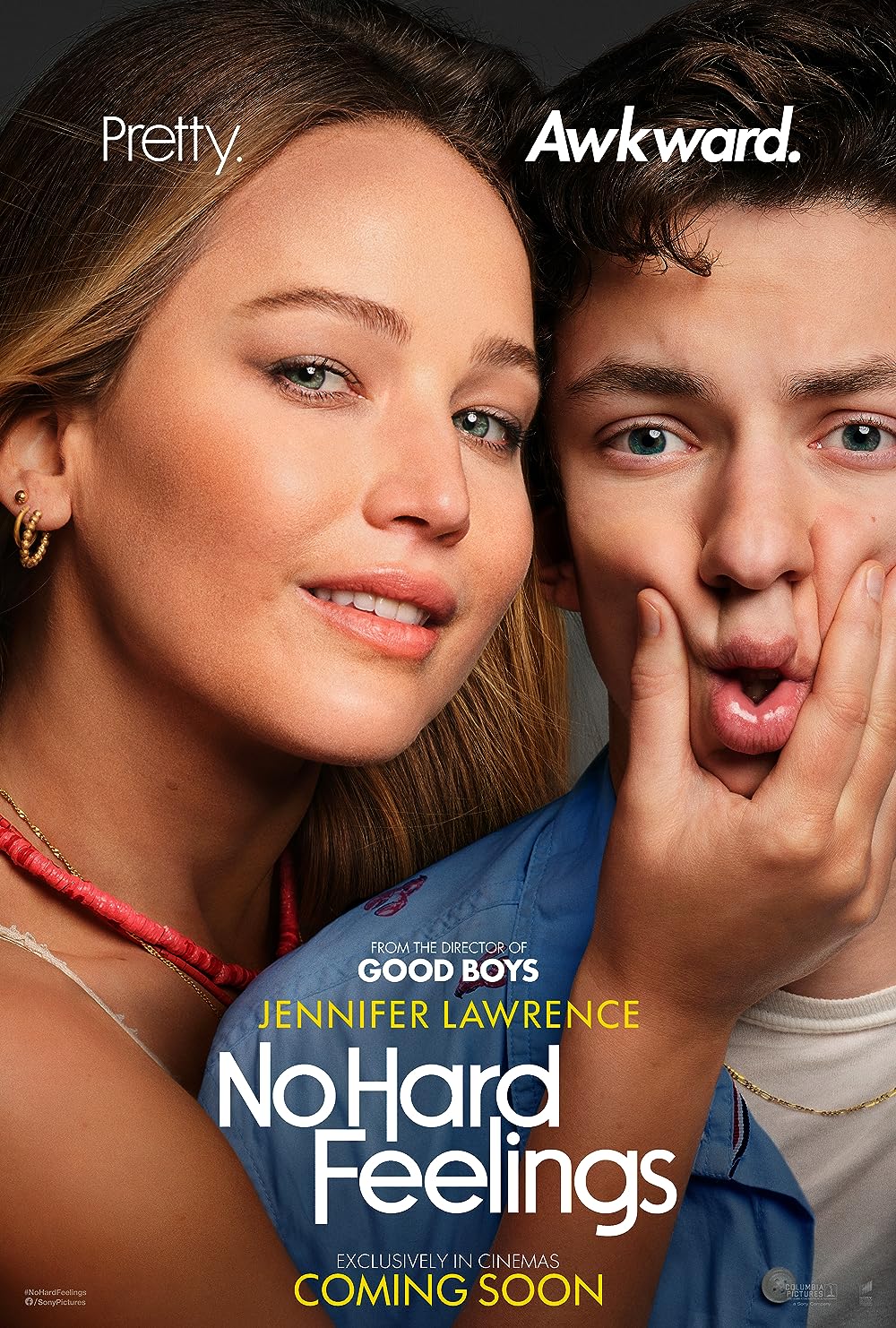 Synopsis: On the brink of losing her home, Maddie finds an intriguing job listing: helicopter parents looking for someone to bring their introverted 19-year-old son out of his shell before college. She has one summer to make him a man or die trying.
Director: Gene Stupnitsky
Stars: Jennifer Lawrence, Andrew Barth Feldman, Laura Benanti, Matthew Broderick, Natalie Morales
---
When you go through Jennifer Lawrence's Internet Movie Database (IMDB) page, you notice several things: she has been nominated for four Academy Awards and has won once; she has had some great roles — The Hunger Games, American Hustle, and Causewa; but there is one thing that is missing from her resume, a comedy.
Lawrence is a talk show gem and has appeared on multiple chat shows where she brings the host and audience to laughter. She has a sense of humour, but she does not have a stand-out comedy in her repertoire . . . until now.
Her newest performance in No Hard Feelings is an R-Rated comedy where she is the lead actor and one of the producers. The film tells the story of Maddie (Lawrence), an Uber driver who has just had her car repossessed due to financial issues.
Maddie finds herself in a predicament; she has no car, so she can't earn money. Uber tends to prefer that their drivers have a car, not the rollerblades Maddie has to migrate to.
Maddie has inherited her family home and does not want to lose it. Exploring all her options, she comes across a Craigslist advertisement where some high society parents are looking for a young woman to date their son. Intrigued, Maddie meets the parents (played by Laura Benanti and Matthew Broderick).
The couple explain that their son is highly introverted, and they want to bring him out of his shell before he heads off for his sophomore year at Princeton. Essentially, they want Maddie to seduce their son. In return, they will provide her with a car.
Maddie is a little older than they would have wanted; it turns out she's 32 and that, by their standards, is 'old', but she does a great job selling herself. The job is hers. Now she just needs to interject herself into this young man's life and 'close the deal'.
Andrew Barth Feldman does a great job as Percy, the young man in question. He plays the fish-out-water character very well. The slightest things set him off. And while Maddie wants to seduce him, he wants to get to know her. How refreshing.
While the film's premise may sound silly, the story is based on an actual Craigslist post. Like many movies, one of the challenges of this film is that snippets of most of the significant parts of the film appear in the trailer, but there remain a lot of funny scenes that should still entice audiences to watch it.
While No Hard Feelings is somewhat predictable, it is still funny, with strong performances from Lawrence and Feldman.
Seeing Lawrence having comedic fun on screen was nice, and her timing is quite good. A tango is only fun to watch if you have two strong dance partners and Barth Feldman holds up his angle. He stays true to his character from beginning to end.
No Hard Feelings is a fun film, and one can only hope Lawrence was bitten by the comedic bug and does more work like this.
Grade: B-
Where can you find Witty?